Blog
Indian Navy Matric Recruit April 2020 Batch
Indian Navy Matric Recruitment 2019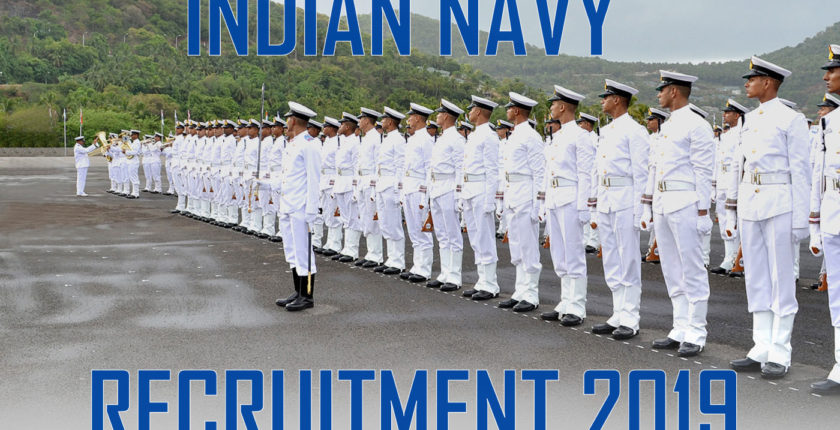 Indian Navy invites application from eligible unmarried male candidates for the post of Matric Recruit April 2020 Batch.
Post :- Matric Recruit ( MR) Chef / Steward / Hygienist
About this Job
You will be required to prepare food as per menu(vegetarian and non-vegetarian including handling of meat products), and accounting of ration. In addition, you will also be trained in fire arms and will be allotted other duties for efficient running of organisation.
You would be required to serve food in the officers messes, as waiters, housekeeping, accounting of funds, wine and stores, preparation of menu etc. In addition, you will also be trained in fire arms and will be allotted other duties for efficient running of organisation.
They will be required to maintain hygiene in wash-rooms and other areas. In addition, you will also be trained in fire arms and will be allotted other duties for efficient running of organisation
Total No of Vacancies :- approx. 400
Eligibility :-
Age Limit :-
17 to 20 Years (Candidates should be born between 01 Apr 2000 to 31 Mar 2003 (Both dates inclusive) )
Educational Qualification :-
Candidates must have passed matriculation / 10th Standard examination from any recognised board in India
Application Details:-
Application Fees :– Rs.205   (Online)
( No fees for SC/ST category)
Official Website – https://www.joinindiannavy.gov.in/
Click here to Apply Online Directly
Important Dates :-
Application Starts on :-  26th July 2019
Last Date of Application :- 1st August 2019
Exam Date :- September 2019
Final Merit List display – February 2020
Selection Procedure-
Selection of recruits is based on State wise merit of their performance in Computer-based Examination, subject to qualifying Physical Fitness Test (PFT) and fitness in Medical Examinations.
Computer-based Examination.
(a) The question paper will be computer-based with a total of 50 questions, each carrying 01 mark.
(b) The question paper will be bilingual (Hindi & English) and objective type (multiple-choice).
(c) The question paper will comprise of two sections i.e. Science & Mathematics and General Knowledge.
(d) The standard of the question paper will be that of class 10th syllabus & sample papers for the examination are available on this link here
(e) Duration of examination will be 30 minutes.
(f) The candidates are required to pass in all sections and in aggregate. The Navy reserves the right to determine the pass marks in each Section and in aggregate.
(g) Penalty for Wrong Answer. Candidates should note that there will be penalty (Negative Marking) for wrong answers marked by a candidate in the question paper. There are four alternatives for the answer to every question. For each question for which a wrong answer has been given by the candidate, one fourth (0.25) of the marks assigned to that question will be deducted as a penalty.
Physical Fitness Test (PFT).
(a) Qualifying in Physical Fitness Test (PFT) is mandatory for selection.
(b) PFT will consist of 1.6 Km run to be completed in 7 minutes, 20 squat ups (Uthak Baithak) and 10 Push-ups. Candidates undergoing PFT will do so at their own risk.
For details of medical tests, please read the official notification.
Training & Advancement
Candidates selected will undergo 14 weeks Basic Training at INS Chilka followed by Professional training in the allotted trade in various Naval Training Establishments. Branch/ Trade will be allocated as per the requirement of Service.
Education Opportunities
You may undergo various professional courses as per service requirement and certificates of equivalent qualifications from various Universities are being awarded on successful completion of courses. You will get "Graduation Equivalent Certificate" on retirement after completion of 15 years of service.
Pay & Allowances. During the initial training period, a stipend of Rs. 14,600/- per month will be admissible. On successful completion of initial training, they will be placed in Level 3 of the Defence Pay Matrix (₹ 21,700- ₹69,100). In addition, they will be paid MSP @ ₹ 5200/- per month plus DA (as applicable).
Promotion. Promotion prospects exist up to the rank of Master Chief Petty Officer-I, i.e. Level 8 of the Defence Pay Matrix (₹ 47,600- ₹ 1,51,100) plus MSP @ ₹ 5200/- per month plus DA (as applicable).
Opportunities for promotion to commissioned officer also exist for those who perform well and qualify the prescribed examinations.
Perquisites- (a) During the entire period of training and thereafter, sailors are given books, reading material, uniforms, food and accommodation as per entitlement. (b) Sailors are entitled to medical treatment, Leave Travel Concessions for self and dependents, Group Housing Benefits and other privileges. Sailors are also entitled to Annual and Casual Leave, Children Education and House Rent Allowances. Post retirement benefits include pension, gratuity and Leave encashment. All perquisites are extended as per service conditions and their eligibility/admissibility is regulated as per Government orders in force and amended from time to time.
For terms and conditions of service & other details, Please read the official notification carefully before applying.
You can also Follow us on Facebook Page
Best Luck for the exam, Stay connected  for more such updates regularly through our blogs.
Regards,
MUDRAA CAREERS