IBPS Notification Clarification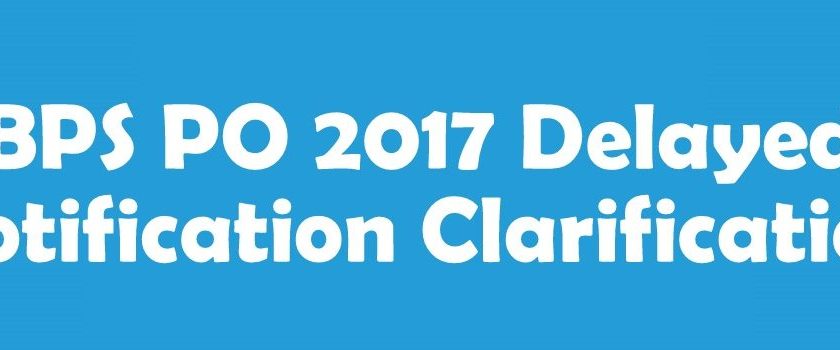 Dear Students,
We know you all are waiting anxiously for IBPS PO 2017 notification to come. And yes it has been delayed by almost a month considering the trend of last few years, normally it used to come by mid- July. Because of which there are many doubts about official notification like whether the notification will come or not? Will there be lesser vacancies this year? and so on…..
Before we clear the doubts, let's know what is IBPS and what is the PO exam for the people who don't know about. IBPS stands for Institute of Banking Personnel Selection. And they conduct exam for recruitment of Probationary Officer & Clerk in 20 Nationalised Bank every year.
Eligibility to apply for the exam is graduation/ Bachelor's degree in any field And age limit is 20 to 30 years for general category.
So lets clear the doubts now, Yes , notification for IBPS PO 2017 was out on the website in July for a while, which was removed immediately.
The same thing happened with IBPS RRB notification also, but they published the IBPS RRB notification after few days again , with some corrections, mainly in the number of vacancies.
One more thing we observed was that, though IBPS RRB 2017 notification delayed, but they didn't change the exam schedule which they had already published on their website long back in January 2017.
So the preliminary exam will be held on any of the following dates 7th/8th/14th/15th October as mentioned on their website schedule.
Click Here to see the detailed Schedule posted on Official IBPS website 
As far as the number of vacancies are concerned, it will be disclosed in the notification, So, doesn't make sense in making any fake predictions or giving false information, and we at MUDRAA CAREERS, always try our level best to verify the information before we post it on any online or social platform.
Best IBPS exam coaching in Mumbai
So, for all the aspirants of IBPS PO 2017, our suggestion would don't be anxious about notification release date, it may be out within a week or two. But start preparing for the exam at your earliest, because even if the notification is delayed, we don't think they will make any changes in the exam schedule.
Best IBPS exam coaching in Mumbai
http://mudraacareers.com/2017/07/14/best-ibps-exam-coaching-in-mumbai/
Click Here for best Study Material and Online test Package for IBPS Exam Preparation